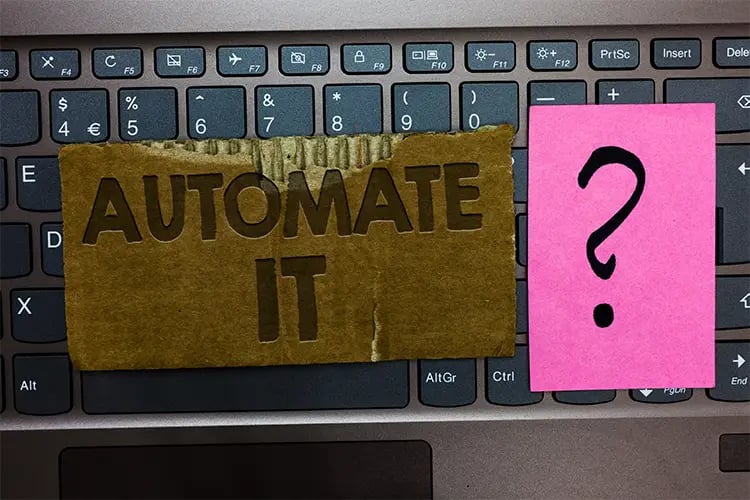 According to market research, 65% of warehouse operating budgets are made up of labor costs. Every year, over a 170 billion euros are spent just on salaries. Also, supply chain processes are slowed down by the time consumed in fulfilling repetitive and low value-added tasks. This provides the seed for companies turning to automation. Automation today has become a key part of a company's strategic decisions since understanding process automation would help you to take a step closer to embrace Industry 4.0.
But for organizations that have rigid or fixed supply chain processes, measuring a way to increase operational efficiency and productivity can be difficult. Questions arise about the need for automation and whether it would benefit them in the first place. It is an extremely critical study, often looked down on when it comes to automation feasibility.
Here are the predominant factors which will help you decide whether you need to automate your process.
Grounds for automation
Do you have a current supply chain or warehouse flow where productivity is not as expected? Does your supply chain have too many steps focusing on low value or repetitive tasks? If so, automation would be the exact system you can implement to streamline your facility.
Moreover, the type of application adds an important dimension to your decision making. Automation is available for a wide array of applications, but for certain applications like material movements, they are extremely reliable, safe, and efficient in the form of AGVs. If your plant or warehouse has many such material movements or storage onto racks, there should be a growing need to consider automation.
Another facet of a plant or warehouse is data management. As the lean process practices take center stage in every supply chain, more and more emphasis is placed on managing and analyzing data and making process decisions based on it. This means it is imperative that data is managed properly for inventory control, storage optimization, and reducing operation cycle time. If you face such issues, you will benefit greatly from automation.
Do more with same people/ labor issues
Labor management is one of the primary concerns faced by plants or warehouses. It can be labor availability, high labor costs, or labor having to spend most of their time doing low-value tasks. All these processes considerably affect the current functionality of your operation and needs to be addressed. A potential solution is automation. By creating a collaborative environment, employees can increasingly rely on automated systems like AGVs to handle repetitive tasks while the savvy workers are retrained and deployed elsewhere.
Accommodate expanding needs/ flexibility
Automation is a continuous process and one of the most important decisions a plant has to make. Since automation primarily focuses on changing/reorganizing your existing way of working, organizations should be flexible to install and run such systems. Installation and maintenance should be in their core agenda. Automation reaps the rewards only when organizations continuously chase lean practices and continuous improvements. Organizations looking to automate must be ready and flexible to achieve maximum output.
Pre requisites
Finally, whether or not you need to automate your processes depends on the availability of prerequisites that are essential for installation and operation.
For an AGV system, some of them are:
Floor types
AGV systems work only on flat and smooth flooring. If the organization does not satisfy the quality level of the flooring, they should consider working it out.
Reference points for mapping
Advanced AGV systems rely on geo-navigation. Plants do not require any infrastructure or stripes. However, there has to be enough reference points(structures) for effective mapping of the facility by AGV.
Pallet loads
AGV systems will only be able to automate material movements of palletized goods.
Reasonable operation benefitting from automation
For best optimization, a plant's current workload and throughput should be high enough to consider automation. A supply chain process running a single shift with shorter pick/drop distance would not be the best bet to automate.
Verdict
Now that you are aware of the important factors, you should have a fair knowledge of whether or not you need to automate your processes. If all the above steps present the same challenges that you want to address, then you will benefit significantly from automation. In this case, it is important to understand if your plant/warehouse is ready for automation.
* Note : AGV = Autonomous Guided Vehicles