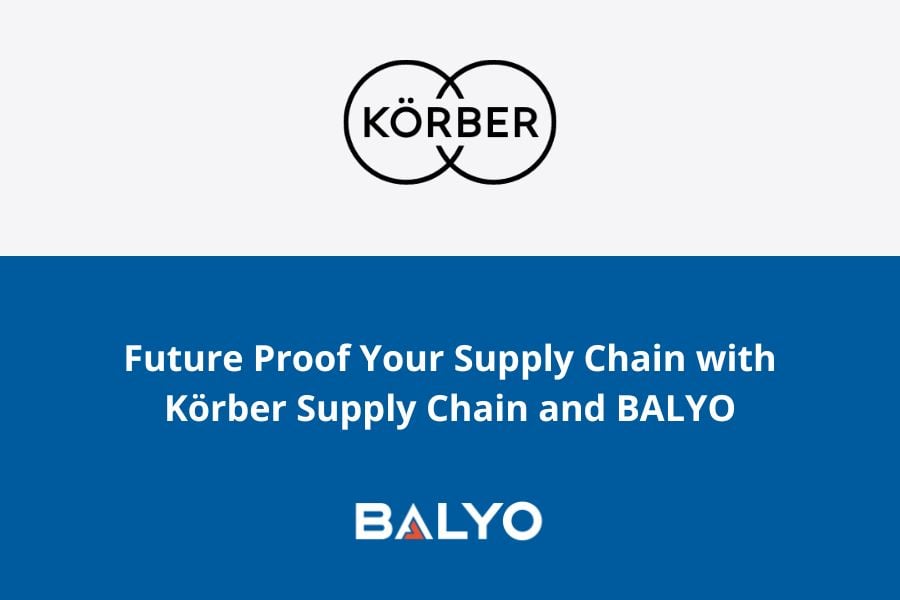 This article was reprinted from Koerber Supply Chain's website.
As the supply chain environment rapidly evolves, automation should be the top agenda item for global logistics leaders. A growing shortage of labour, an explosion in demand from online retailers and an increase in industrial property rises have combined to make the transportation-and-warehousing industry the sector with the third-highest automation potential.
To meet these challenges, Körber Supply Chain partnered with BALYO – a technological leader in the design and development of innovative robotic solutions for material handling forklifts. Working alongside BALYO, this partnership will provide businesses worldwide with the latest technology in autonomous material handling equipment.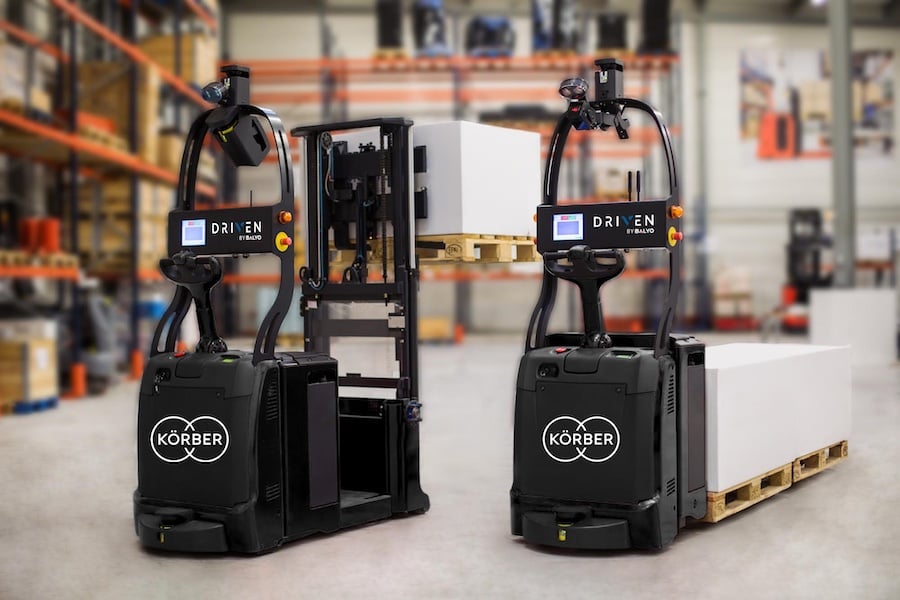 Future proof your supply chain with autonomous robots
Technology is the great enabler of more efficient supply chain operations. Companies need to address the gaps in their infrastructure and accelerate their migration to automation and artificial intelligence or risk being left behind.
By integrating BALYO's range of robotic forklifts to overcome warehouse challenges associated with full pallets, bulk movements and heavy goods, your organisation will be future proof for years to come by being one step ahead in this rapidly changing world.
The result of adopting state-of-the-art technology is flexibility, agility and scalability - allowing you to predictably increase throughput and productivity alongside company growth.
Robotic forklifts focused on real human needs
Today, we are seeing a shift in our warehouses. Robots are increasingly supporting businesses around the globe to face challenges in goods movements in the warehouse. As a leading integrator and developer of advanced forklift robots, BALYO's vision is to let companies focus on humans through designing, installing and operating simple and affordable technologies, systems and services.
The robotic forklift range allows full autonomous pallet movement within warehouses. This is achieved thanks to a robust product range, embedded in a full user journey. The most basic robot offered is a tugger that is able to pull trailers of up to 7 tonnes in weight. Scaling up from there, BALYO has a range of horizontal transport stackers and counterbalanced stackers. These stackers are able to transport and place pallets of up to 1.6 tonnes up to four metres high.
One of the most popular products in the BALYO range is the automated reach truck. It manages Australian pallets (along with 30 other global pallet types), offering storage and retrieval solutions up to 11 metres high, while working in aisles as narrow as just 3 metres wide.
Perhaps the most coveted BALYO solution is the Very Narrow Aisle (VNA) robot. The VNA robot provides storage and retrieval solutions at the highest density and up to a height of 17 metres – the highest available solution in the world. Thanks to deep rooted partnerships with OEMs, BALYO is also uniquely positioned to flexibly build the base truck unit to meet a wide variety of aisle widths.
Robots built for efficiency and safety
The unique thing about BALYO solutions is that they begin with original equipment manufacturer (OEM) base trucks that are designed and produced at a huge scale. By adding autonomy to them, BALYO brings two distinct advantages:
The ability to have easy service, spare parts and maintenance ready to hand; a local partner network that brings a level of ease to our clients.
BALYO's solutions enhance employee safety and efficiency; and their robotic lift trucks overcome labour shortages.
The modern artificial intelligence-powered robots are capable of acting as dependable assistants. They allow workers to be more efficient, while also being suited to hazardous environments. Rather than replacing employees, our solutions enable them to carry out more valuable tasks while working alongside the robots.
A safer work setting is provided through smart safety and stop-and-go features. BALYO's robots scan the environment in real time for obstructions and instruct the trucks or tow tractors to move or stop accordingly. The cutting-edge SLAM navigation allows for the robots to navigate in a changing environment without the need to add additional infrastructure such as reflectors or QR codes.
BALYO's strict safety standards (based on ISO 3691-4) will bring customers the highest levels of reassurance, even when working in an environment surrounded with personnel. On top of that, the whole range of AGVs is dual mode, meaning it can be used both in automatic mode or in manual mode.
Robotic user journey with Körber x BALYO
Established 17 years ago, BALYO has offices in three continents and has deployed more than 1,000 robots worldwide. Pascal Rialland, CEO of BALYO, believes the collaboration with Körber Supply Chain – who have assisted many companies to integrate automation in their warehouses – will develop an industry leading partner network that meets local and global needs for sector verticals and logistics customers.
Together, our mission is to become the long term local and global partner of supply chains around the world – by bringing innovation to warehousing, lowering the cost of pallet movements and improving safety inside the facility.
Recently, Pascal discussed how "Kӧrber's expertise in warehousing and logistics, and their global presence, reinforces the complementary nature of the two companies." He said that the partnership with Körber Supply Chain is a major asset for deploying BALYO's complementary solutions to its customers.
The time for autonomous material handling is now
Every warehouse is different and features a particular set of unique processes to tackle different challenges. The expertise of both BALYO and Körber Supply Chain will take customers on a journey to help figure out how automation is feasible and applicable to your operations. Multiple models are evaluated, and the best one – with the best return on investment – will be the key to taking your business to the next level.
The time for companies to assess their supply chains and embrace automation and robotics is now. Adopting technology today will provide significant improvements in productivity and efficiency, while reducing labour costs and improving customer satisfaction.
After the disruption our supply chains have witnessed over the last few years, we must now begin to recover. Recovery is the chance to reshape and enhance existing processes. Robots are an important improvement on how we used to work. They give us the opportunity to revolutionise our facilities and make them truly progressive and sustainable long into the future.
This was reprinted from Koerber Supply Chain's website.